Rainbow in the Dark news and more from Comfort and Adam's Blog #
Wed, 26 Feb 2014 17:13:49 GMT
Fellow Grand Rapididians!
Don't forget - tomorrow, February 27th, we are doing our very first store signing at Vault of Midnight - as well as doing our 'Let's Make a Character' presentation at Kendall College of Art and Design.
So if you're in the area it sure would mean a lot to see you there. Our 'Let's Make a Character' talk is at 12:30pm…and our Vault of Midnight store signing is at 2:30pm-'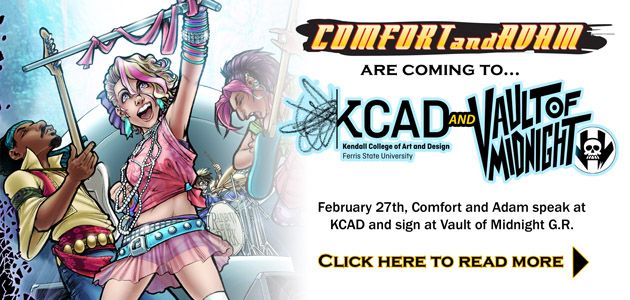 Today we're on our way to early to see our very good friends
Chris
and
Jennifer's
today. It's been waaaaay too long since we've seen them and can't wait to get there.
Wish us luck on our first store signing!
Comfort & Adam
Comments
---
Wed, 19 Feb 2014 19:32:24 GMT
Big news! We're doing our first ever store signing for Rainbow in the Dark at Vault of Midnight in Downtown Grand Rapids on Thursday February 27th! Not only that, we'll also be doing our 'Let's make a Character' talk at Kendall College of Art and Design on the same day!

Here's how the schedule for the day shapes out...

12:30pm: at Kendall in room 709 on the 7th floor - Comfort and Adam present, 'Let's Make a Character!'
Discover all the ins and outs of good (and bad) character design, then Comfort and Adam and the audience will create a new character on the spot and drawn live for your entertainment!

2:30pm: Portfolio reviews and store signing at Vault of Midnight:
Comfort and Adam look over portfolios and sign their newest release the omnibus collected edition of their multi-award nominated series - Rainbow in the Dark!

Below is the full poster for the event! Pretty sweet lookin' if we do say so ourselves...




It's gonna be so much fun, and we hope if you're in the area you can make it out to see us. The talk at Kendall is gonna be crazy fun! And we must say, Vault of Midnight is an AMAZING comic shop! Well, well, well worth the trip!

- Comfort and Adam
Comments
---
Wed, 15 Jan 2014 17:19:22 GMT

Hey everybody!

Looooooong time no blog. In part that's because we're still working on this massive 400+ page book for Random House. Sweet lordy, this has turned out to be a monster of a book! Can't wait to tell you all about it once we get the green light.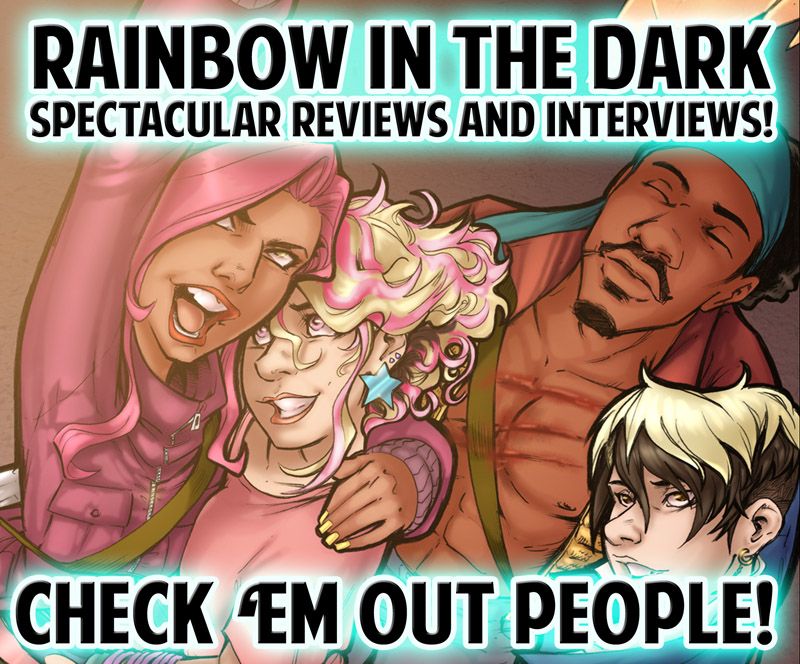 Anyhoo, as we finish up the last of the artwork for this massive undertaking we wanted to take just a minute to list off the fantastic reviews, interviews - and yes - a top 101 creators to watch mention we've gotten!

As a matter of fact, let's start with that. For those of you who didn't know, we were reviewed not only got five stars from our review at Den of Geek, but we were also named #82 on their top 101 creators to watch for 2014. Holy crap - we are super crazy honored!

We've gotten reviews now from Newsarama, Fanboy Nation, Comics Spectrum, We Are Geeking Out, with more to come!

...and we're doing interviews all over town. Both Comic Vine and it's sister site, Anime Addiction interviewed us (one written, one recorded). Fanboy Nation gave us an amazing and lengthy interview - and we were invited to return to two of our favorite podcasts - Two Geeks Talking, and Comic Timing!

As you can see, we and the media are building a stronger bond together that we're looking to continue in 2014. We'll see what happens - but we're more hopeful now then we've ever been!

Thanks for reading!

Comfort & Adam
Comments
---
Thu, 19 Dec 2013 20:56:14 GMT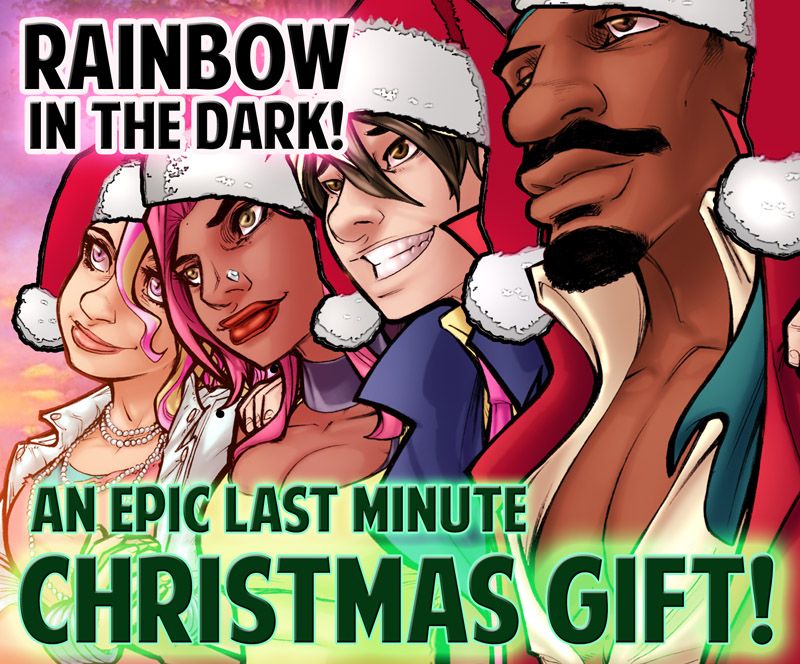 Hey, everybody! We thought we should toss out this announcement while people might still be getting in some Christmas shopping: Rainbow in the Dark: The Complete Saga is available to order on Amazon.com! That's right, for a nice, meaty discount you can get this massive tome shipped to you or your loved ones in time for the holidays.

A a matter of fact Rainbow in the Dark: The Complete Saga is available at...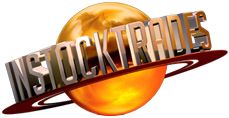 There are a lot of great reviews coming in, too. Newsarama loved the book, scoring it a big 8/10. We got five stars from the Den of Geek, in a lengthy review that has a lot of nice things to say. The entire staff at We Are Geeking Out wanted to chime in to share their thoughts about the book. And over on Fanboy Nation, there's a very positive review and a lengthy interview with us talking about all sorts of things and getting deep about Rainbow.

It's been a really great time for us, seeing how much people have been enjoying Rainbow in the Dark. If you're still looking to get yourself a copy, Amazon can get you one in time for Christmas. And while you're at it, please consider leaving a review on Amazon. It helps us a lot if the people who enjoyed the book would say so, even just by giving a little star-review on their site.

Thanks!
Comfort & Adam
Comments
---
Wed, 04 Dec 2013 17:43:42 GMT


So as you can see, Rainbow in the Dark: The Complete Saga is out! Color us surprised, because we were told by Diamond that it wasn't going to be released until the 11th. But late yesterday we started receiving messages from comic shop owners and fans alike that they'd received/seen the copies at their stores! We even just got our first review/recommendation from Comics Worth Reading!

This means that for a full week - your local comic shops are the only places to get Rainbow in the Dark!

So, for friends for Christmas, for yourself, heck even to support your local comic store - please, if you haven't gotten yourself a copy of the book, do so today! It would mean sooooo very much to us!

And get excited everyone! if you ever wanted to tell people about your love for Rainbow in the Dark - now's the time! Through blog posts, Facebook, Tumblr, Twitter, fanart on Deviant Art - get out there and make it happen!

Heck, it's even already starting - Travis Perkins is putting up a whole set of fanart that's been coming out on the lead-up to Rainbow's release! Check it out!



L-R: Us with Rainbow guns, Raina being arrested, and Luke with his guitar. You can check out even more of these on Travis' DA page!

More to come as the week goes on!

Comfort & Adam
Comments
---
Tue, 19 Nov 2013 17:02:13 GMT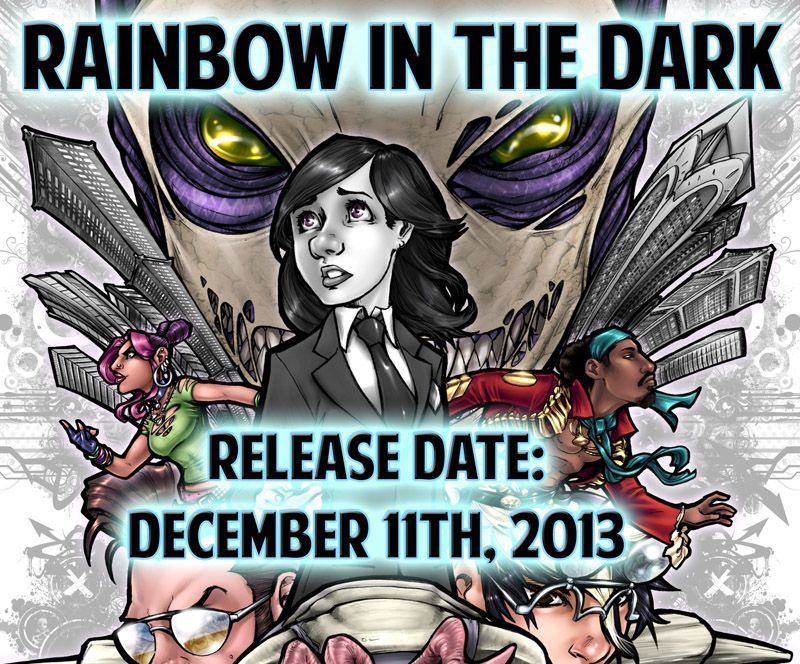 So as you can see, Rainbow in the Dark will be coming into stores December 11th, 2013. And for all you keeping track, this is one week later then previously scheduled. And that's because our books got caught in the flood of stuff shipping in for Christmas on the docks. Yikes!

But, it's all cool and Diamond totally understands. Seriously, we're working with the best people there. We're loving our experience!

So, just wanted to give everyone a heads up!

C&A
Comments
---