Rainbow in the Dark news and more from Comfort and Adam's Blog #
Wed, 04 Dec 2013 17:43:42 GMT


So as you can see, Rainbow in the Dark: The Complete Saga is out! Color us surprised, because we were told by Diamond that it wasn't going to be released until the 11th. But late yesterday we started receiving messages from comic shop owners and fans alike that they'd received/seen the copies at their stores! We even just got our first review/recommendation from Comics Worth Reading!

This means that for a full week - your local comic shops are the only places to get Rainbow in the Dark!

So, for friends for Christmas, for yourself, heck even to support your local comic store - please, if you haven't gotten yourself a copy of the book, do so today! It would mean sooooo very much to us!

And get excited everyone! if you ever wanted to tell people about your love for Rainbow in the Dark - now's the time! Through blog posts, Facebook, Tumblr, Twitter, fanart on Deviant Art - get out there and make it happen!

Heck, it's even already starting - Travis Perkins is putting up a whole set of fanart that's been coming out on the lead-up to Rainbow's release! Check it out!



L-R: Us with Rainbow guns, Raina being arrested, and Luke with his guitar. You can check out even more of these on Travis' DA page!

More to come as the week goes on!

Comfort & Adam
Comments
---
Tue, 19 Nov 2013 17:02:13 GMT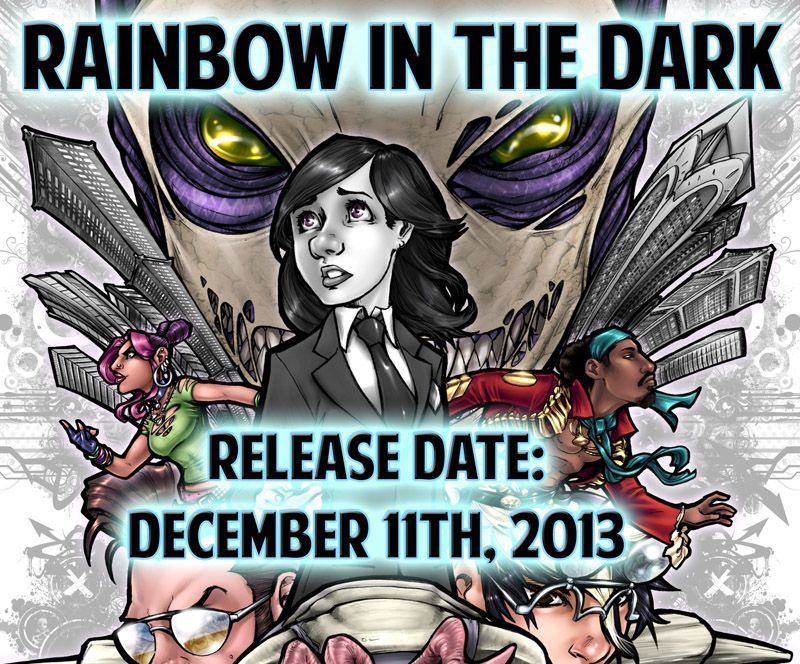 So as you can see, Rainbow in the Dark will be coming into stores December 11th, 2013. And for all you keeping track, this is one week later then previously scheduled. And that's because our books got caught in the flood of stuff shipping in for Christmas on the docks. Yikes!

But, it's all cool and Diamond totally understands. Seriously, we're working with the best people there. We're loving our experience!

So, just wanted to give everyone a heads up!

C&A
Comments
---
Tue, 05 Nov 2013 21:21:04 GMT

This is a big day guys! We learned that we have made our Diamond numbers with flying colors! We shot waaay above the numbers we need and that means all you guys will be getting your copies of Rainbow in the Dark that you pre-ordered when the book comes out the first week of December!

The other thing that happened is we got a few preview copies of Rainbow in the mail, and they look amazing - WOW! But don't just take our written word for it. Below is a short video of us being crazy excited and showing off the fanciness! Check it out!!!!!



As you can tell by the preview image here of us (Adam especially) we're freaking psyched! Wooooooooo! Rainbow in the Dark!

More to come,

Comfort & Adam
Comments
---
Tue, 22 Oct 2013 19:35:56 GMT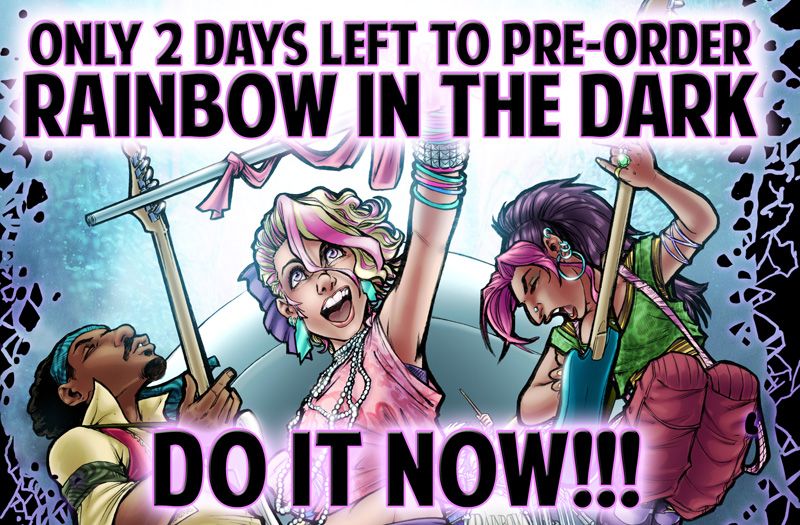 We need your help! Less than 48 hours left to pre-order Rainbow in the Dark: The Complete Saga! And what's really important right now is that we hit Diamond's (the distributor) pre-order goal so they will carry us at all!

So in order to make hit this goal we need you! We know many of you buy our books off of us personally, but this time we need you to get out there and pre-order - that is the best thing for us hands down!

So please, if you can, either...

A: Take a trip to your local comic shop and pre-order it there. If you've never done something like this before we made a handy-dandy little comic strip to help you out!
...or...

B: Order it from Discount Comic Book Services for 45% off! Only $16.49!!!

Thank you so much everyone - it means so much to us that you do this for us.

Super sincerely,

Comfort and Adam
Comments
---
Wed, 16 Oct 2013 00:20:20 GMT

Hello everyone!

Just a heads up as we countdown to the last day your can pre-order Rainbow in the Dark: The Complete Saga from your local comic shop! The cut off date is October 24th...but a lot of stores will be putting in their final order super soon!

So please, if you have a local comic shop please get out to your store ASAP! And if you don't have a local comic shop you can find one near by at ComicShopLocator.com!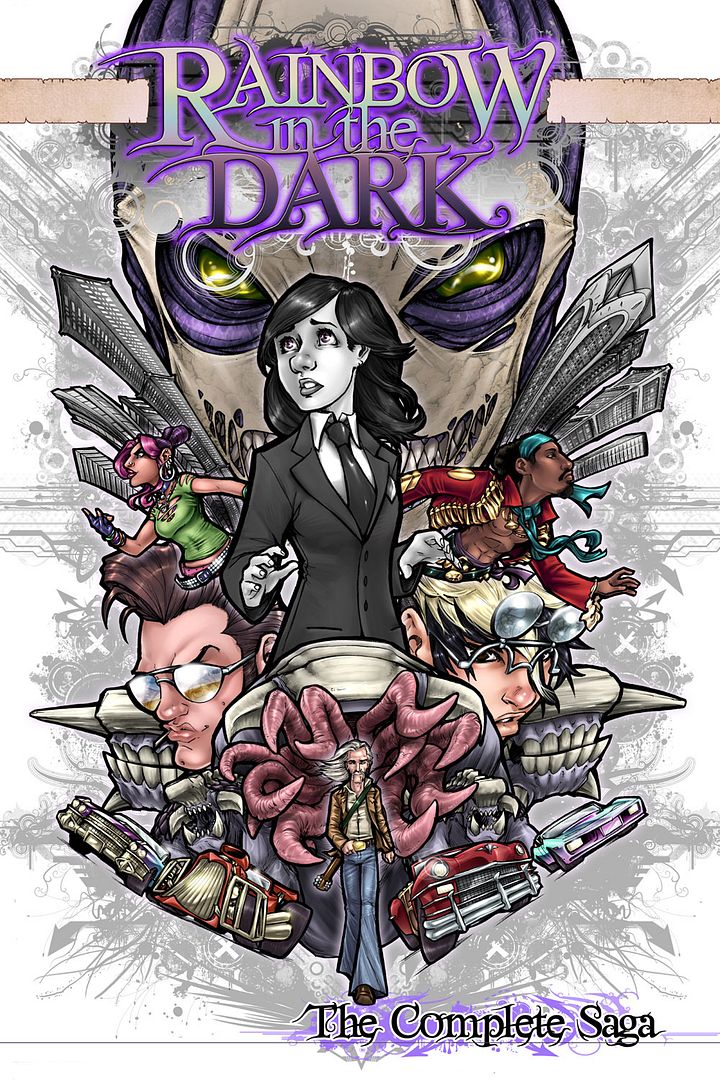 Only one week left to Pre-Order from your Local Comic Shop - so do it NOW!!!

Not sure how to pre-order' Well our friends, if you didn't see it before, check out the little comic strip we made on 'How to Pre-Order from Previews'. It's super easy...and it's kinda an adventure to discover your local comic store!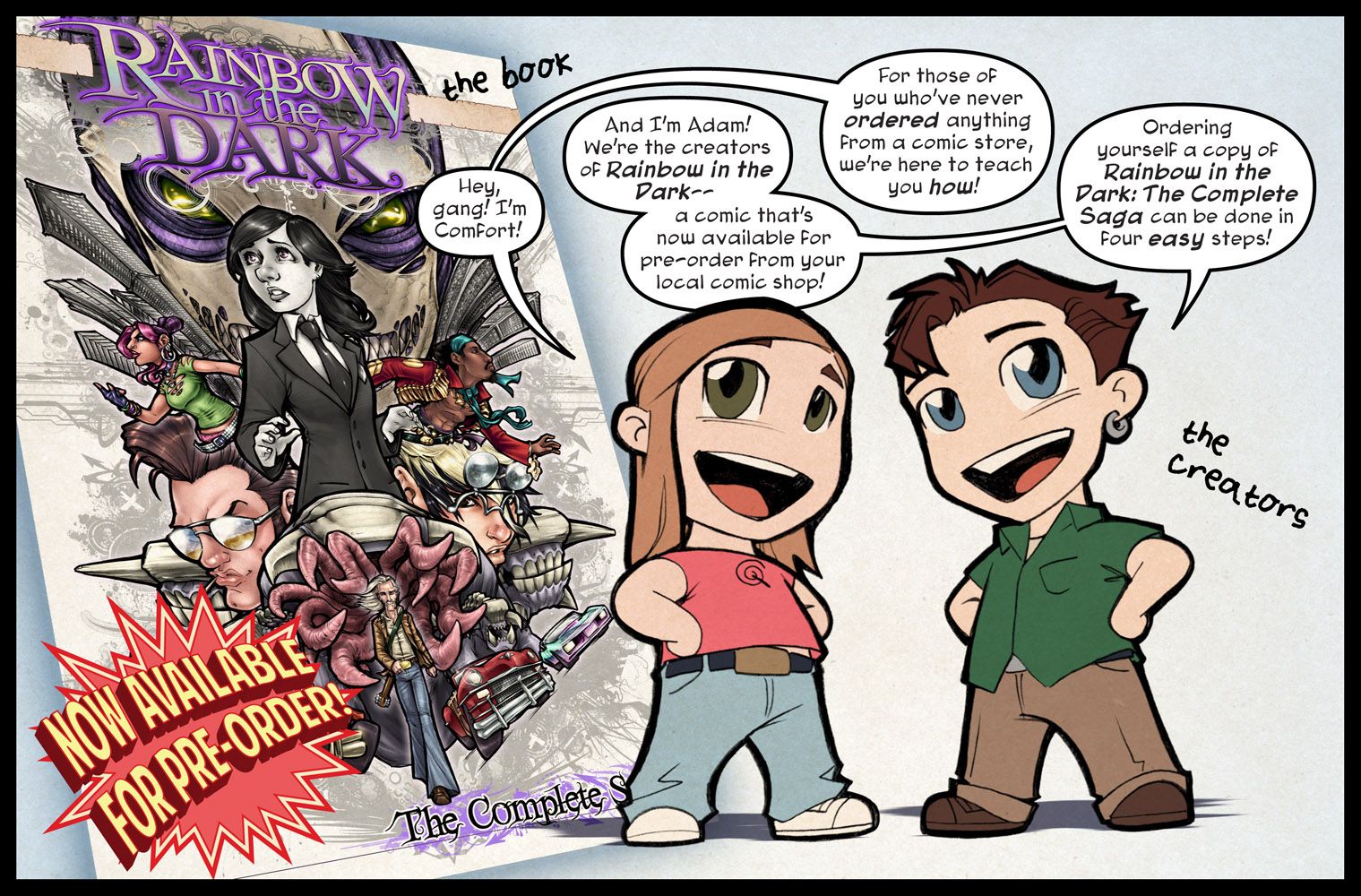 Read our mini comic on how to pre-order from your local comic shop here!!!

Well guys, thanks for reading about this subject yet again. And thanks a ton for taking the time out to pre-order. We know it's a little more work - but it's well worth it. And your supporting your local economy. That's win win in our books.

Here's the pre-order info...

Rainbow in the Dark TP - item #OCT131029.
On page 288 of the October Previews Catalog under Comfort and Adam

Thanks for reading you crazy kids - and thanks so much for your support!

Comfort & Adam
Comments
---
Tue, 15 Oct 2013 18:44:54 GMT

Hey, everybody! We just wanted to take a moment to point out a HUGE deal on Rainbow in the Dark: The Complete Saga! If you still haven't pre-ordered the book, or were maybe sitting on the fence and unsure if you were interested, maybe this will get you a little more motivated.

The excellent online comic dealer Discount Comic Book Service has thrown a lot of support behind Rainbow in the Dark. Not only is it a front-page advertised book, but they're offering a 45% discount as well. That means you can get the massive, 368-page Rainbow omnibus edition for a measly $16.49!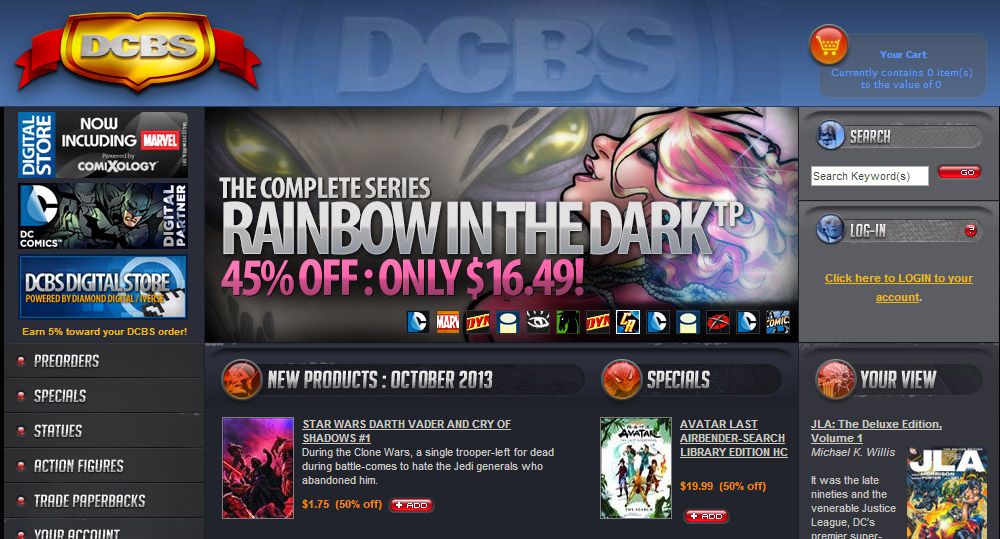 It's a stunning deal, and we're hopeful that it helps get our comic into the hands of more people who've wanted to try Rainbow but haven't yet had the chance. Check it out and give DCBS a try; they're a great store and have great service. You'll be glad you did!

-Comfort & Adam
Comments
---